Kindergarten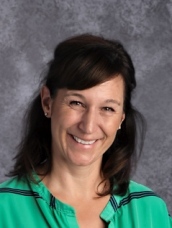 Mrs. Brown
Welcome! My name is Wendy Brown. I ABSOLUTELY love spending my time in the kindergarten classroom at Arlington Elementary School. I adore getting to know the kids, watching them grow and change as the year progresses, and making memories.
I grew up in Concord, MA but after I received my degree from Wheelock College in Boston, I decided I had had enough of the snow and moved myself to the great state of Arizona where I have been a classroom teacher for over 26 years. My teaching career has allowed me to work in many different grades but kindergarten is my favorite!
As a classroom teacher, I enjoy creating engaging activities. I believe learning should not only be fun but also challenging. I try to find meaningful ways to give students a strong foundation to build upon.
When I'm not teaching, I am a busy mom/wife to my wonderful family. My husband and I have been married for over 20 years. We have two amazing sons, Remington and Branson. Remington is attending NAU and Branson is a student at Buckeye Union High School. Both boys have their own unique passions so they keep me busy. When I'm not tending to the needs of my family, I enjoy hiking, reading, photography, and creating materials to use in the classroom.
wbrown@arlingtonk8.org
623-386-2031 Ext 234